Traveler's Notebook Directions
For supplies needed, click here
1. Open the file in Adobe Acrobat Reader. Download for free here
Note: for duplex printers, skip to STEP 2B
2. Select "print"
3. For non duplex printers your settings should look like image (a)
4. Ensure you have selected actual size, auto portrait/landscape and start by printing "odd pages only"
5. Once your settings are correct, select the "print" button at the bottom right corner.
6. Once the odd pages print, flip your pages over and reinsert them into your printer. Select "print" again and this time in your print box under "more options", select "even pages only". Now, select "print" on the bottom right again.   
7. Continue to STEP 3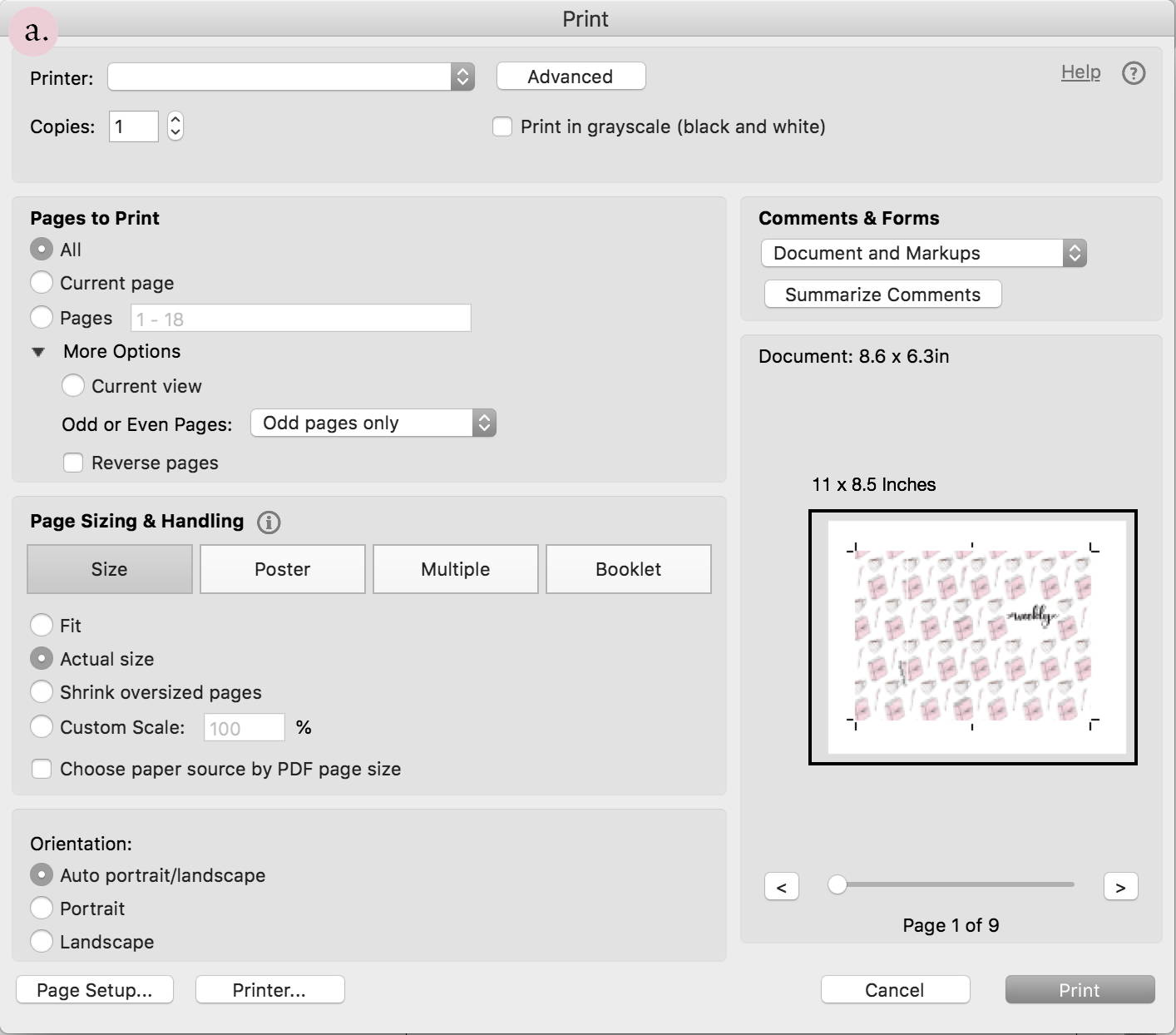 2. Select "print"
3. For duplex printers your settings should look like image (b).
4. Ensure you have selected actual size, auto portrait/landscape and you are printing "all pages in range".
5. Ensure your duplex printing option is selected in your print box. Please note that all printers are different and some settings may vary. If you do not see these options in your main print box, select "printer" on the bottom left of your print box (b) and you will see something like image (c) pop up.
6. You'll then want to check off two sided at the top and "flip on short edge" or "short edge binding" in the drop down below. (For Hobo TN, select "flip on long edge" or "long edge binding")
7. Continue to STEP 3
8. Once print is complete, double check all is correct. I like to do a flip through of the pages to ensure things are in the right place and facing correctly before moving on.
9. Trim the pages using the crop marks as a guide.
10. Fold insert in half
11. Bind your insert using a long arm stapler or your preferred binding method (optional)
Tip: if you have a paper trimmer that can trim multiple pages at once, trim top and bottom sides only. Fold insert in half and then trim the final right edge. This will give you a clean/even cut at the free edge.
Note: If you have purchased a foldout insert, not all pages are the same size. Also, you will want to fold the flap over once all pages are trimmed. I like to use the cover page as my guide for where to fold the flap.
Note: If you have purchased a dutch door insert, not all pages are the same height.
You're all set! Add to your planner and enjoy!
If you are experiencing issues, check out our commonly asked questions here
or for further assistance, feel free to contact us.